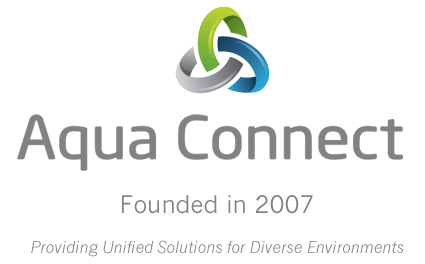 Gartner "Cool Vendor" 2011
Best of VMWorld 2010
First Licensee of RDP Server for OS X
Microsoft IVA Member
Intel Software Partner
Aqua Connect, Inc. has been delivering unique remote desktop solutions for Mac OS X since 2007. Most people know us as the innovators of the world's first Mac Terminal Server and also as the first company to license Microsoft's Remote Desktop Protocol for Mac OS X Server. While we are proud of those distinctions, our goal is to continue to provide market leading software solutions that promote interoperability and meet the demands of today's end users.
Aqua Connect allows companies and their systems administrators to consider a whole new cost-effective solution in enterprise computing for the Mac platform. A company's systems administrator can install Aqua Connect's solution on a Mac OS X machine and make applications available over the network. In addition to allowing for easy software deployment, the ability to connect from virtually any computing platform provides a powerful option for making any number of current Mac OS X applications available to users with a limited investment. In other words, users need not update their Mac hardware or switch to the Mac platform from existing PC clients to be able to access existing and newer Mac OS X applications.
2010 was a pivotal year for Aqua Connect in the IT community. That year Aqua Connect sponsored the FileMaker Devcon in San Diego, BriForum in Chicago, and VMWorld in San Francisco. As Aqua Connect traveled the country meeting customers who were using our solutions in the FileMaker and Brian Madden communities, we learned what our customers wanted to see in our products and from an industry developing new solutions everyday. 2010 culminated with a nomination for Best of VMWorld in the desktop virtualization category.
In 2011, leading research firm Gartner, Inc. designated Aqua Connect as one of their "Cool Vendors in Personal Computing". The recognition was designed to highlight new and innovative vendors, products and services. Most of Gartner's research focused on Aqua Connect Remote Desktop Services for OS X. According to Gartner, a cool vendor is "a company that offers technologies or solutions that are: Innovative, enable users to do things they couldn't do before; Impactful, have, or will have, business impact (not just technology for the sake of technology); Intriguing, have caught Gartner's interest or curiosity in approximately the past six months."
Aqua Connect was proud to release a new product offering to customers in 2013. Aqua Accelerated Protocol (AAP) was designed with customer feedback in mind. Organizations wanted a faster remote desktop experience, and they wanted a feature set that made the protocol and experience easy-to-use yet suitable for power users. AAP delivered on our promise to create the world's fastest remote desktop experience that would even be suitable for multimedia needs.
As Aqua Connect continues to move forward, providing unified solutions to diverse environments is still our primary vision. Aqua Connect is dedicated to revolutionizing the enterprise computing market by offering practical and cost-effective enterprise solutions to organizations of any size.
Featured In